We are excited to announce the birth of our monthly perinatal industry news digest. Being that this is the first edition (and with a fresh set of eyes on 2022), we wanted to share our gratitude and inspiration with readers. Labor and Delivery can be one of the most rewarding areas to practice because you are providing care for the livelihood of more than one patient at a time and get to experience the exhilaration that comes from witnessing the phenomenon of childbirth. It also requires special training on equipment like fetal monitoring systems so you can quickly address challenges to help ensure patient safety and the best possible outcomes. And from what we all know, the journey doesn't stop there – it extends beyond the delivery room into the hearts of the entire staff who oftentimes have only their peers to lean on for comfort through the best of times and the worst of times.
At OBIX, we want you to know we also care like family.
That's why we're setting up this monthly communication—to help our peers in the perinatal industry focus on the information relevant to helping them navigate their unique world. We are all in this together.
Without further ado, here's the first issue for you to enjoy. Please feel free to share with your colleagues. We love feedback, so please let us know how we're doing over here. And be sure to follow us on LinkedIn and Facebook.
Sincerely,
The OBIX Team
Industry News
Education
OBIX Customer Webinars
Complimentary CE Webinars exclusive to OBIX system customers include 1.25 CEs. For information on how OBIX customers can register, email us at obixcare@obix.com.
February 23: Preeclampsia and Gestational Hypertension: Recommendations from ACOG Task Force on Hypertension in Pregnancy
Industry Webinars
Trade Shows & Events
OBIX Highlights
OBIX BeCA
Locate and Track technology reduces the need to frequently adjust transducers and supports high BMI patients
The Freedom Wireless transducers are waterproof, allowing for more hydrotherapy options for mom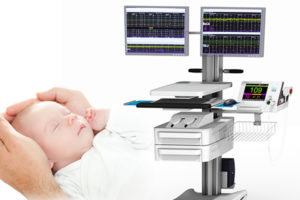 Like peas in a pod, the OBIX® Perinatal Data System, the OBIX® BeCA fetal monitor, and the OBIX Freedom wireless transducer system values mom's comfort. Now isn't that sweet? Contact us today for more information.
OBIX System E-Tools
OBIX System E-Tools enable you to look beyond the tracing and delve deeper into the important components of uterine activity to help in assessments during labor. Developed in collaboration Lisa A. Miller, CNM, JD, the E-Tools suite supports application of the standardized NICHD nomenclature for fetal heart rate components, application of the NICHD categories, and evaluation of uterine activity.
OBIX News
We welcome our new Executive Vice President
Monthly employee highlight
Sign up for The Perinatal Heartbeat monthly newsletter.