Information to Help Improve Your Experience Starting with a Video
Click our video link— Live at the Nurses Station with OBIX and Lisa Miller  for tips to navigate while in the event.
Because SURREAL is a pixel-streamed virtual environment, user experience (responsiveness, real-time rendering, latency issues, etc.) is improved by maximizing the strength of your internet connection. As such, we recommend that you:
Use Google Chrome as your default browser.
Close out of unused applications on your computer, especially heavy apps like Microsoft Teams, Adobe Suite, Safari and other browsers.
Keep your microphone on mute when you are not interacting with others.
Conversations between others will be private when you use the seating areas or are seated at one of the tables in the hub.
Your microphone will automatically be muted when you transition your position/location e.g., standing up, sitting down, selecting to teleport to rooms or levels. Just remember to unmute your mic when you go to chat with others.
If your avatar's movements freeze or there's serious screen lag, close and restart the browser and log in again.
Customizing Your Avatar on Event Day
When you've logged in, select your video and audio settings then you'll be prompted to customize an avatar.
Using your mouse, first select a gender, next toggle through the various options to stylize your appearance—such as skin tone, hair, makeup, apparel, etc.
Have fun with your creation! When you're happy with your results, remember to SAVE, and you're good to go exploring.
Select ENTER SURREAL, and your avatar will land in the Main Hub.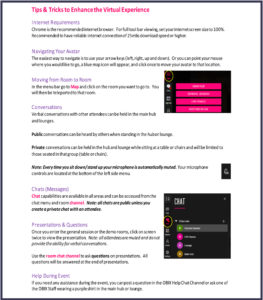 Getting Help
Lastly, SURREAL staff will be available to assist at any time during the event. They'll be easily identifiable wearing pink, SURREAL-branded shirts.
The following are ways to easily get help:
Go to the Help Desk located in the Main Hub of SURREAL.
Send a direct message to HELP in SURREAL's Chat feature.
Send an email to hello@surrealevents.com